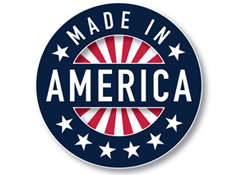 As the world economy has become increasing globalized, the benefits of cheap foreign goods and labor can conflict with the risk to global supply chains that rely so heavily on those foreign sources.
Re-domesticating manufacturing by U.S.-based companies is one key solution to ending supply chain bottlenecks and headaches, reducing the stresses on an international network stretched to its limits. At the same time, returning manufacturing stateside can benefit consumers and the companies that create the products they seek.
Reinvigorating Manufacturing in the U.S.
Designed Security, Inc. (DSI) has a long history of manufacturing its products in the U.S. And as the company thrives — even as supply chain disruptions have hurt foreign-based competitors — DSI has ensured that the communities where it does business are thriving too.

Here are some of the advantages of doing business with a company like DSI, whose manufacturing, sales and support functions are located in America:
More jobs for Americans, who spend their earnings in their communities. Keeping all the money we spend, especially salaries, nearby benefits local businesses in our hometowns.
Components that are sourced in the U.S., and not overseas. The money we spend on parts made in America can help keep our U.S.-based component manufacturers going.
Shorter lead times ­— manufacturing domestically means faster time-to-fulfillment. Domestic manufacturing means the ability to work more closely with suppliers. This also allows for customizing or accelerating orders to meet customers' unique needs.
Reduced costs for delivery of products when goods are shipped on less expensive modes of transportation. Trucks and trains can be a lot less expensive than ships and airplanes — and shipping across a few states costs less than shipping across an ocean!
Faster delivery of repair and replacement parts that ship from closer to where they are needed. Repairs can be urgent, so it is important to get new parts in the hands of customers as quickly as possible. This can be done much faster when shipments only have to travel a short distance.
Environmentally friendly shipping. Moving parts and products fewer miles means engines run fewer hours, so they put fewer pollutants into the atmosphere. Shorter distances also mean options for choosing modes of transportation with the lowest environmental impact.
S.-based customer service means hearing a familiar voice when problems need to be solved. For the ups and downs of seasonal demand or for other changes in our customers' needs, service reps can be added more easily when they are hired locally.
DSI Leads the Field in Domestic Manufacturing
DSI has made a commitment to manufacturing its state-of-art security and access control peripheral products here in the U.S.

"I think we probably include the most U.S.-made parts in the industry in our product lines," says Mark Crandall, Vice President/Operations Manager at DSI. "Our sheet metal fabricating shop is here in Texas. Our Corian and woodworking shop is here in Texas. Our machine shops are here in Texas. And our manufacturing facility is here in Texas…Plus, we try to use U.S. steel."

Adds Bruce May, DSI's National Sales Manager: "Being U.S.-made, U.S.-owned, U.S.-built means we don't have all those shipping delays and costs, which helps us to be more competitive. And if we have to spend extra on manufacturing parts in the U.S., we can offset that with our lower shipping costs."

As noted above, when a workforce is local, its spending is local. Says May, "We are employing Americans, who are keeping their money here."

In fact, DSI has gone above and beyond its commitment to local manufacturing, establishing itself as the only company among its peers that is U.S.-owned. That means DSI pays taxes right here, benefitting the American taxpayer and hometown communities — supporting local schools, infrastructure and services by keeping those revenues in the U.S.

In short, says May, "The bottom line, for everyone, is improved by being Made in the U.S."