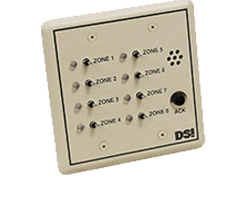 ES600 Series
(Annunciators)
The ES600 series annunciators provide an efficient means of displaying the state of security devices throughout a monitored facility. They serve to provide visual and audible indication of alarms as they occur, giving security personnel the ability to monitor a large complex from a single location.
The ES600 series uses a modular concept to provide alarm monitoring in a compact and economical package. Standard and optional control electronics are organized into four zone modules, which can be grouped to provide a wide range of monitoring capabilities.
Desktop control panels are also available upon request.
For additional information, please call us at 800-272-3555 in the U.S. and Canada, or 512-321-4426 for locations outside of the U.S.
For an overview of our complete line of products, see our product brochure.
Adobe Acrobat Reader is required to view or download most of the files. Download the free Adobe Acrobat Reader.
Product CAD files can be downloaded to your computer and then opened with a CAD Drawing program.
California Prop 65 Warning