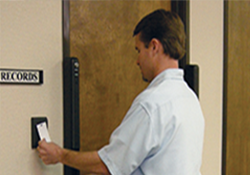 ES5200
(Entry Sentry Series)
In environments with tighter security requirements, tailgating can pose unnecessary security risks. The DSI Entry Sentry is designed to deter such activity. Using unique algorithms, this solution can allow people with briefcases or pull bags to pass without causing alarms, making it one of the most accurate and cost-effective anti-tailgate devices in the industry. The Entry Sentry series is available as both a standard unit (ES5200) and a unit with voice (ES5600).
To schedule a technology assessment, click here.
Download our tailgate detection solutions brief.
For additional information, please call us at 800-272-3555 in the U.S. and Canada, or 512-321-4426 for locations outside of the U.S.
For an overview of our complete line of products, see our product brochure.
Adobe Acrobat Reader is required to view or download most of the files. Download the free Adobe Acrobat Reader.
Product CAD files can be downloaded to your computer and then opened with a CAD Drawing program.
California Prop 65 Warning